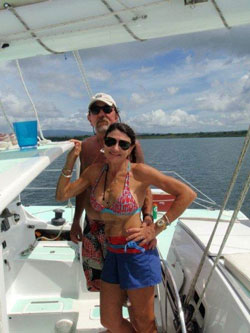 Captain Craig has been sailing and on boats since age five; and has logged over 180,000 blue water miles. He first came to Costa Rica in 1979 and continued to sail throughout Central America, South America, Mexico, Hawaii, and the South Pacific to the present. For your ultimate experience, Captain Craig will pilot Haiku to many destinations that only a few people know.

Janny has been sailing five years and has sailed the California Coast, Hawaii, and Costa Rica. She is an RN and PHN as well as knowledgeable about nutrition. Janny always has tasty, nutritious, "typical" menus on board for your enjoyment.

Our mate Sammy is from Golfito and has spent her 26 years on land and the water throughout the Golfito and Golfo Dulce area. Sammy has a wealth of knowledge on local customs, foods, flora, fauna, animals and places to explore.