Haiku Charters
»
Haiku News
» SURF SNORKLE SAIL – ADVENTURE!!
SURF SNORKLE SAIL – ADVENTURE!!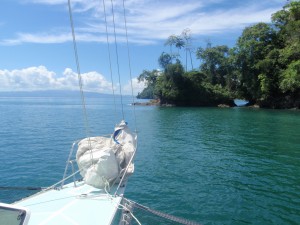 Enjoy your Costa Rican adventure on Haiku. Whatever you desire to enjoy: surf, beach, snorkle, sail, party, jungle, flora, fauna, animals. Haiku Charters can provide. On recent trips our guests enjoyed all of these. We were delighted to have beautiful clear blue skies and water. We were treated with visits from dolphins, scarlet macaws and manta rays sunning themselves after taking a flight out of the water. We stopped at "Dos Rios" for a swim, beach picnic and jungle hike; jumping into the cool fresh water stream provided a refreshing treat after hiking.



A beautiful Costa Rican Butterfly came to greet us on the jungle hike.
Warm water, beautiful clarity, tropical fish – what could be better?
John and Maggie May enjoying the view from Haiku's bow to catch site of the Tiki Hut on the beautiful black sand beach. Great spot for a beach picnic!
Haiku anchored at a beautiful cove for swimming, snorkeling, kayaking, beach walks and picnics, jungle hikes AND fun!
Leave a Reply